Tripawds is a user-supported community. Thank you for your support!
No, not the scoop from the litter box!  This is the scoop on VAS or Vaccine Associated Sarcoma.
I'd like to take the opportunity to answer some of your questions in honor of my upcoming 2 YEAR ampuversary.  We are super excited because I was only expected to live 9 months, and here I am!
Our first question is from Jerry:
Has being a Tripawd affected your ability to jump off of high places like countertops? Do you still land as graceful as a four-legged cat, or even better?
Great question!  Jumping and landing ability all depend on whether you have a front or rear amputation.  I have one rear leg to depend on when I jump.  I can't jump as high and I'm not as graceful (ok, I wobble a lot), but that doesn't stop me!  You can't keep a good cat down!  Since I have 2 front paws to land on, that's not a problem for me.  I can imagine that for my front leg amputee friends… they might be able to jump higher, but getting down might be a little tricky and possibly even hurt sometimes.  Mom has been talking to our vet and reading up on joint supplements.  Since our other legs have to work a little harder to compensate, our joints might give us more problems than our 4-legged friends over time.  
I remember Mom put out pet steps before my surgery.  She was hoping that I'd get used to them and use them when I came home.  Sorry, Mom.  Call me stubborn, but I didn't need them and I knew it!  She tried to keep me from jumping at least until my incision healed, but when she saw that I was so determined, she just put our household furniture next to the higher places that I was trying to get to.  I used our homemade "steps" until my stitches came out, then I was OFF!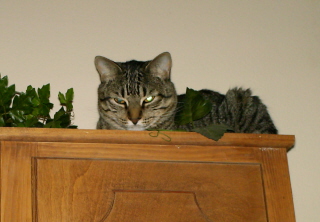 This is back when I used to go cabinet climbing.  I can't get that high anymore, but counters, tabletops, windowsills, chairs, beds, piles of freshly washed and dried towels… I'm on it!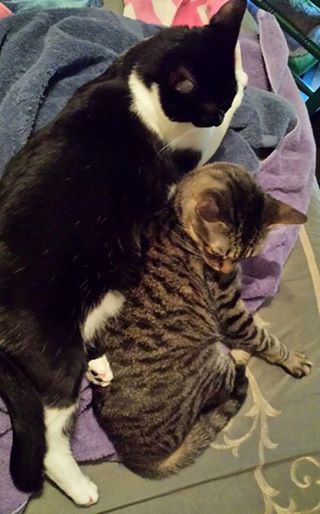 This was today with my "little" sister, Sweet Kitty.  
Keep the questions coming!  I'll be answering more of Jerry's questions next time, including my secret to beating VAS and some advice for new tripawd kitties!  It's about to get deep!