Tripawds is a user-supported community. Thank you for your support!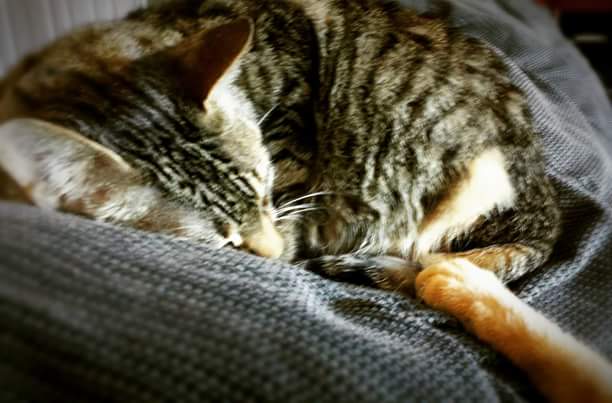 Since my last post, I've just been taking it easy (when my brother and sisters let me). We've had to adjust my treatment plan. The Chinese herbal mix (Stasis Breaker) didn't work out for me. We mixed it with coconut oil and applied it to the tumors. After a while, it started making me sick to my stomach and it irritated my skin. I have allergies anyway, so that might have a lot to do with it. We tried getting back in to see the holistic vet, but our schedules haven't worked out (she stays booked weeks in advance). We've made adjustments over the phone, but I don't think physical visits are going to be an option for us… timing, distance, etc.

The last few months have seen some milestones pass. The end of June marked 4 years since my Vaccine Associated Sarcoma diagnosis and amputation. (Life expectancy was 9 months.) This month, I turned 13 yrs old! It also marks one year since my last tumor removal surgery. That's when we found out that we didn't get clean margins and that it'd probably come back. Which, it did. We decided on no more surgeries… just comfort care. The tumor is now the size of a golfball on top and it goes all the way down the incision site. I'm still feeling like nothing's wrong… playing, eating well, etc. Overall, I've had a very successful treatment with only surgery, diet, and supplements.

I've been asked about my diet and supplements. I've been on a grain free limited ingredient diet since I was diagnosed with food allergies. The holistic vet said that it was a great cancer fighting diet, too. I take Omega 3's as directed on the label. Cancer cells don't grow as well when there are higher levels of the "good" fats present in the body, Omega 3 especially, and low levels of carbohydrates. The vet also added a transfer factor supplement for immune support. I take one capsule sprinkled and mixed in my food. I eat it up!

That's it. I truely believe my diet has been the key to beating cancer for 4 years … and counting!