Tripawds is a user-supported community. Thank you for your support!
More Q & A:

jerryon April 7th, 2014
What's your secret to beating cancer?
If you could give advice to kitties about to become Tripawds, what would it be?
Again, great questions!  There's no doubt that the secret to me beating the VAS monster has been the combination of being one blessed kitty and having a speedy and radical treatment.  From my experience, VAS, vaccine associated sarcoma, is an aggressive type of cancer that forms in the soft and connective tissues surrounding an injection site.  In my case, Mom felt a rough bump on my leg.  My vet did a biopsy to confirm that it was VAS.  Once I had more blood work and x-rays to make sure it had not already spread, I had a radical amputation.  The vet removed my leg, part of my hip and pelvis, and some of my abdominal tissue.  Two weeks later, the pathology report said that I had clean margins… the amputation went past the cancer cells leaving me with healthy tissue.  Since I was once feral and did not travel well, we did not follow up with chemo or radiation.  The nearest specialist was 2 hours away.  We were cautiously optimistic that, with clean margins, I could live 9 months to a year (and possibly even live out the rest of my natural life cancer-free). 
My advice for soon-to-be tripawds… education and preparation, as much as possible!  The more you know, the better… that goes for what the diagnosis is, possible treatments, what to expect at home, future care, prognosis, and where to find support.  If you're already here, then you are WAY ahead of the game!  Ask tons of questions.  Keep in mind that it is ok to get a second opinion, if possible.  Also, tests and treatments can get expensive.  There are financial options available… you just have to know where to look.  Always ask for discounts.  You might be surprised what your vet will be willing to do to help you out. If you have time, call around for estimates and ask if the other offices may know of any other resources that could help.  In the case of VAS, since it is vaccine associated, contact the vaccine manufacturer regarding financial compensation.  Your vet should have the needed information in your pet's chart.  The most important advice is DON'T GIVE UP.  If quality of life is a concern, all you have to do is take a look at the PAWESOME animals on this site to know that, as the TRIPAWD saying goes, it really is "better to hop on three legs than to limp on four".  =)
Here are some old pics from my biopsy and surgery…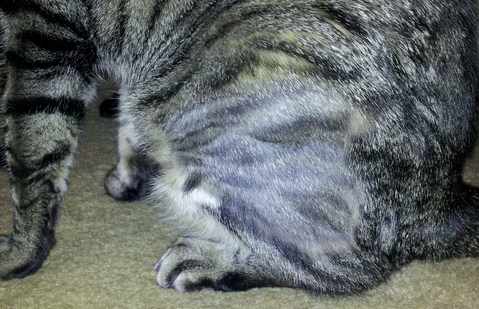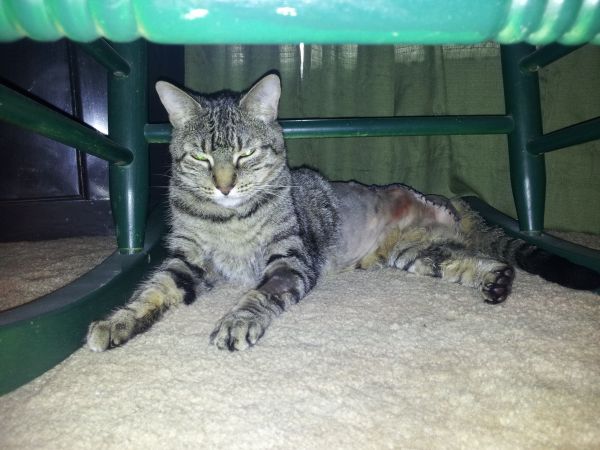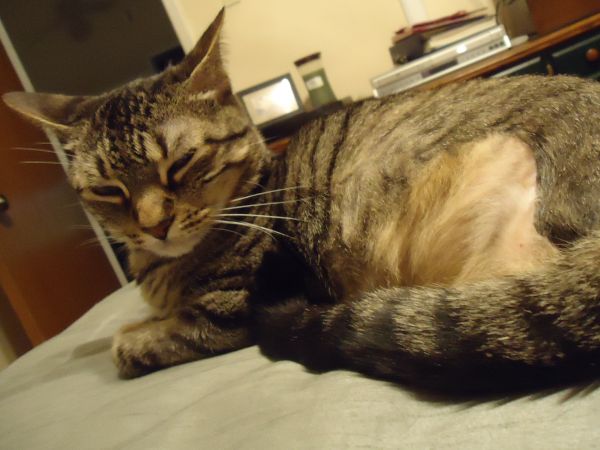 Next time, I will tell you all about how I helped to bring about some pretty big changes at my vet's office.  In the next few weeks, I will also share some tips Mom learned when she brought me home after surgery and some of the changes that came in the days following.