Tripawds is a user-supported community. Thank you for your support!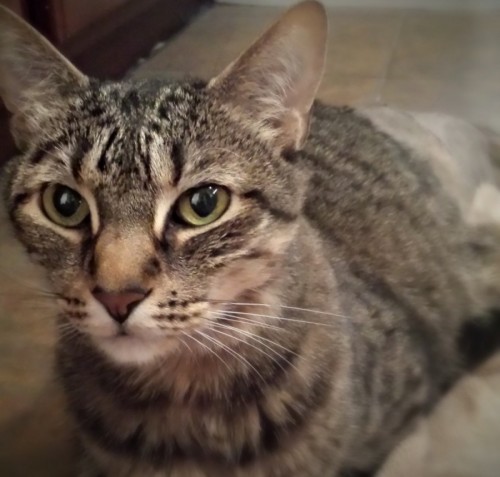 I've been gone way too long… sorry!  My last post was over a year ago when I celebrated my 2 yr ampuversary.  Since then, we moved over 4 hours away with the 3 orphaned kitties that Mom took in. (Yeah, I let them stay.)

I celebrated my 3 yr ampuversary back in June, but had a tumor recurrence.  I had it removed in August.  The pathology report showed that it was another vaccine associated sarcoma (VAS), but we didn't get clean margins this time.  I'm now 2 months post op and back on high alert.  I'm 13 yrs old now and that tumor removal was a lot harder on me.

Mom has me on omega and herbal supplements to help slow any recurrent tumor growth.  So far, so good.  I'm pretty much back to my old, silly self.  As you can see in the next pic… Mom told me to get off the counter.  I think I let her know what I thought about that!

I've really missed you guys.  Hopefully, I'll be able to post more now. Take care,
Little Man