Tripawds is a user-supported community. Thank you for your support!

Hi… I'm Little Man and, as you can see,  I'm a cat.  I'm a little nervous being surrounded by so many dogs here, but I'm sure we'll be friends in no time!  Especially since we have something in common… 3 legs.  =)
I'm here to share my story and show others that life on 3 legs is definitely worth living.
Back in my feral kitten days, I was found living in an old barn.  Dad put on some old work gloves and got me out from under a storage locker.  He brought me inside to mom, who held me close and petted me for hours until I decided to give this housecat thing a chance.  They already had another cat who helped me adjust.  That's been 9 years ago.   My older sister is no longer with us, but I now have another sister, Nova… more about her later.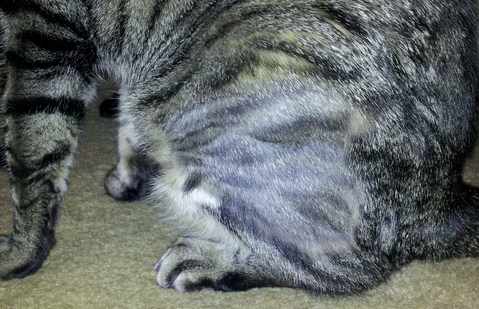 Back in May of 2012, my mom found a lump on my left hind leg.  She took me to my vet and he did a wedge biopsy.  The tumor was a vaccine-associated fibrosarcoma (VAS).  He went over all the research with my mom and told her that amputation was my best chance at beating this thing.  We live in a rural area of Alabama, so the nearest specialists were over 2 hours away.  I don't travel well, so mom decided that whatever treatment I needed, our local vet would have to take care of me.   We went home to talk with dad and make the biggest decision of my life.  Now, dad was worried that I wouldn't be happy with 3 legs.  He thought I wouldn't be able to live like a normal cat and that I'd be miserable.   "What kind of life would that be?", he asked my mom.  His first suggestion was to just take care of me as long as they could and keep me comfortable.  Mom did some research and showed dad videos of other animals living with 3 legs.  He was still very uncertain.  He told my mom that it was up to her.  She called the vet and scheduled my surgery.  She set it up for June 25th.  Dad agreed to take me.  The plan was for my vet to do more lab work and take some x-rays.  If the cancer had already spread, I'd go back home.  If everything looked good, he'd proceed with the amputation… which he did.  I ended up losing my left hind leg, part of my pelvis, and some abdominal tissue since the tumor was pretty high on my leg.  I stayed at the vet through the week because mom had to work and she wanted to be able to take good care of me when I came home.  I came home that Friday.  Mom had it worked out so I wouldn't be by myself until the stitches came out.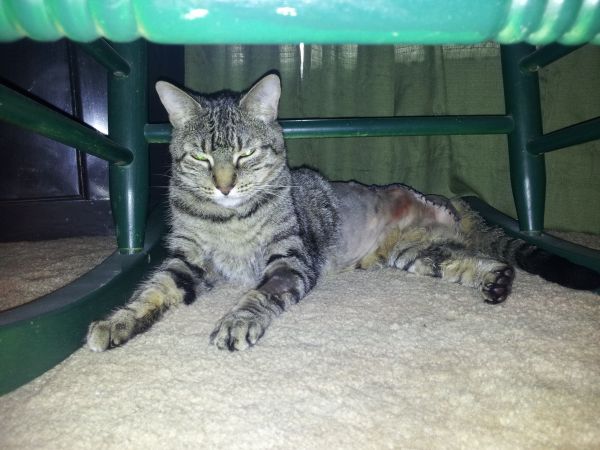 Mom says I did great while I was recovering.  I took my antibiotics and pain meds like a good boy and didn't have to wear the "cone of shame".  I surprised everybody by coming out to see some visitors every now and then… I even let a few of them pet me!  (I used to run and hide if I heard a stranger, so mom and dad  were shocked. lol)  Mom had tried getting me to use some little steps to help me get up to my favorite spots, but I refused.  I just used our regular furniture and made my own steps up to mom's bed.  Within 2 weeks, I was back to playing with my favorite toys, chasing Nova, and getting up on the couch and bed all by myself.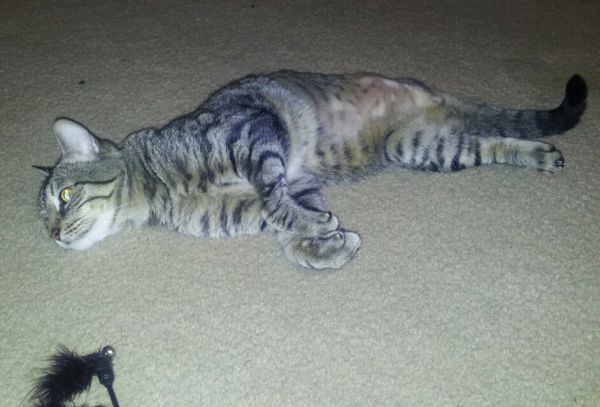 Two weeks after surgery, we got the call from the vet with the biopsy results.  We had clean margins!  The vet said that with those results and the fact that I didn't like to travel, I didn't need chemo or radiation.  I just celebrated my 7 month ampuversary with no signs of any new lumps. 
In my future posts, I'd like to introduce you to my family, reflect on some of the things I had to overcome, and share the reasons why I love my life with 3 legs.   Thanks for having me here!